Combining the very best in technology and technical ability, our deep hole drilling department exceeds the needs of customers who have requirements for holes between 2mm diameter and 25mm diameter, to depths of up to 2500mm.
With an impressive selection of deep-hole drilling machines at our disposal, we provide a highly cost-effective, rapid-response solution to industries requiring the highest quality within the shortest possible time frame.
| | |
| --- | --- |
| Minimum Bore Diameter | 2mm 0.0787″ |
| Maximum Bore Diameter | 30mm 1.1811" |
| Maximum O.A.L. |  2500mm 98.425″ |
| Bore Tolerance | ± 0.05mm ± 0.002" |
| Surface Finish (Drilling Only) | 1.6μ 63√ |
| Accuracy (Drill Wander / T.I.R) | 0.025mm per 25.4mm 0.001″per 1″drilled |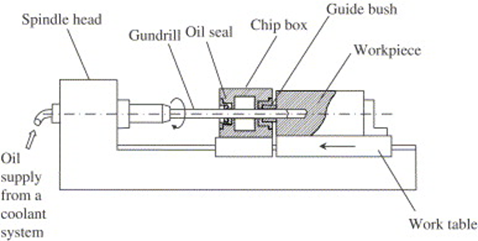 Deep hole drilling is a machining process where holes are created that are up to ten times deeper than the diameter of the hole. It is suitable for a wide range of metals, including the strongest superalloys. Deep hole drilling is used in many industries, including oil and gas generation, aerospace, mould-making and heavy industry.
Deep hole drilling is a common method of drilling deep holes, utilising a gundrill tool made from carbide with a kidney-shaped shaft to form holes with a high depth-to-diameter ratio.
Advantages of gun drilling
High cutting performance
Minimum centre-line deviation
Outstanding drilling quality
High process reliability
Minimal quantity lubrication
Information/Parameters We Need To Quote For Deep Hole Drilling
The material specification – this is essential to ensure accurate quoting as material properties differ, as do the speeds and feeds required to machine them efficiently.
Outside diameter – we need this to assess which machine the component can be held on as well as to ensure we have a suitable wall thickness to ensure the drilling process can be completed safely.
Inside diameter – this is required to ensure we have tooling available, as although we have a vast range in stock, certain materials, such as Inconel, may require specialist tooling, as do blind bores with specific forms at the base.
Overall length – as with the first two, these are required for tooling and machine capacity decisions.
The bore type – i.e., is it a through bore or blind bore? If it is a blind bore, is a specific form required, such as a flat bottom or a particular radius at the base? Standard deep hole drilling leaves a sharp W shape at the bottom of the bore. Any other form can increase your unit cost due to either requiring specific drill grinds or bespoke drill heads.
The depth tolerance – if you require a blind bore, we need to know the tolerance required on the bore depth. As long as there is excess material on the length, we can "back-face" to achieve tighter tolerances on depths.
The bore tolerance – bore tolerance is a major factor when quoting the deep hole drilling process. If the tolerance is below the industry standard of ±0,1mm, a honing process may be required.
Any surface finish requirement – in addition to the bore tolerance, this is needed to ascertain whether we have to add a honing operation.
T.I.R. or Straightness requirements – we need to know these as even though we may be only carrying out an initial gundrilling or deep hole drilling operation, we need to ensure there is sufficient material to be turned off to correct any drill wander. Industry standard for drill wander is 1mm per 1 metre or 0.001" per 1" drilled.
Hone-All: Precision, Reliability, And Integrity
If you are looking for a trustworthy precision machining company that puts its customers' needs first, talk to Hone-All today.
To find out more about our deep hole drilling services, please call 01525 370666 or request a quote, and our team will be in touch.